Hedy Goldsmith Talks Cypress Room
Goldsmith talks sweets, savories, and her James Beard nomination  Here, her toasted Oregon hazelnut parfait After months of excited whispers and foodie chatter, this week the Genuine Hospitality Group unveiled its latest Design District haunt, The Cypress Room, inside the former W Wine Bistro space. The restaurant gives an elegant nod to 1920s American fine dining, while also elevating the...
1 tag
The ultimate duo, I must say! 
Are you looking for something to nibble with a glass of red wine? Look no further, I gotcha covered: FIG BARS WITH RED WINE & ANISE SEEDS. courtesy of FOOD & WINE  Fig Bars with Red Wine and Anise Seeds CONTRIBUTED BY HEDY GOLDSMITH ACTIVE: 1 HR TOTAL TIME: 2 HRS 30 MIN SERVINGS: ABOUT 4 DOZEN BARS MAKE-AHEAD STAFF-FAVORITE This delicious homemade grown-up version of Fig Newtons...
Watch
The making of a Banana Toffee Panini. Yum. 
1 tag
1 tag
1 tag
2 tags
Watch
On November 1st, I baked for a cause. Miami's first "Sweet Miami Lemonade" benefitted Alex's Lemonade Stand Foundation, and truly was a magical night. A big thank you to Julie Loria, who offered the beautiful Marlins Park to host a sweet event for a very sweet cause. Bug hugs to the Dan Marino Foundation, the Havenick Family, the entire Marlins organization, Michael's...
you scream, I scream, we all scream for ice cream!
A scoop of coffee + toffee ice cream. The recipe is in my cookbook! This past weekend, I had a contest that asked friends and friends of friends for a new seasonal ice cream flavor. My offer: I'd make a quart for the person with the best suggestion. Close to 200 ideas were submitted (a sample listed below). What should we do next weekend? :)  The top 10: #10  Sorghum, brown butter + sea...
HEDY GOLDSMITH HOSTING DESSERT PARTY TO FIGHT CHILDREN'S CANCER Miami foodies know Hedy Goldsmith as the Magic City's dessert queen; Michael's Genuine Food & Drink's pastry chef extraordinaire; and creator of mouthwatering twists on childhood favorites like chocolate peanut butter brownie banana splits, s'more brownies and buttered popcorn gelato. Drooling yet?...
Watch
My screen name is Cream Puff! :)
Watch
Watch me and Al Roker make Giant Fortune Cookies together!
                                                 Alex's Lemonade Stand Foundation is a cause dear to my heart. Whenever and whatever I can do to bring awareness to childhood cancer, I'm in! So, I thought, why night help strike out kids' cancer with some sweets in Marlins Park VIP suites!                               "Announcing Sweet Miami Lemonade - the newest...
Bake the Book: Lemon Ricotta Pancakes
Bake the Book: Baking Out Loud (courtesy of Serious Eats, September 10, 2012) Are you a bold baker? One who doesn't shy away from flavor and uses their technical skills to enliven and elevate their creations? Then you'll be pleased with Baking out Loud, the latest book from James Beard nominee and pastry chef of Michael's Genuine Food & Drink, Hedy Goldsmith. The theme...
Next up: FEAST Portland and I couldn't be more excited! While Amy, my Assistant Pastry Chef holds down the fort in Miami, I'm taking my #3 in command, Tiffany Rawson. She's a West coast kinda girl, so she'll be digging it. For us, it's all about what is fresh and growing in the Pacific NW. Based in S. Fla, that's a real treat for me.  Friday night 9/21,...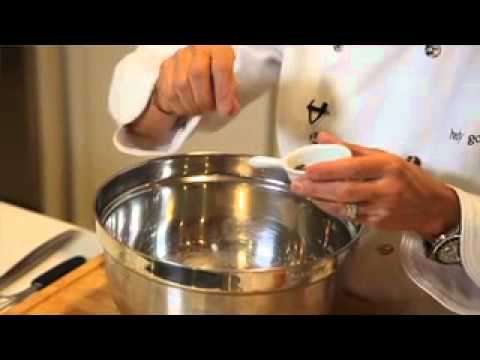 How to Use Basil in Baking
My first real memory of basil came when I was very young. I remember the day as if it were yesterday and every time I smell basil, I'm transported back in time. We lived in Philadelphia, and in the summer we would pile into the family car and drive one and a half hours to my cousin's home in Atlantic City, N.J. We would drive past farms filled with incredibly sweet Silver Queen corn, beefsteak...
Go Shopping at Your Local Hardware Store for...
Sometimes inspiration can come from the most unlikely of places, like the neighborhood hardware store. I like to shop for kitchen "tools" like a DIYer hungry to tackle their project of the month. Strolling the aisles, I'm like a kid in a candy store with ideas for repurposing the contents of a handyman's tool chest. Here are some tools that can pull double duty in the kitchen. Blow-torch: This...
Yes, Chef
Tonight, here at MGFD, I'll be preparing  dessert for a special dinner promoting chef Marcus Samuelsson's new memoir, Yes, Chef. Chef Samuelsson will host the intimate four-course dinner discussing his book and signing copies for guests. Drawing from the narrative of Yes, Chef for creative inspiration, I'm serving wood roasted peaches with honey, rice milk custard, curried wafers, and...
Size Matters - Baking Pan Sizes
Yes, pan size matters when it comes to baking times and temperatures. Have you ever had cake batter ready to go into the oven and realized you have the wrong size cake pan? Panic sets in. What do you do? There's always a pan you can sub out for another size. It's not the end of the world, trust me. I have a few tips I keep up my sleeve. If, for example, your recipe calls for an 8-inch cake pan...
Baking 101
I was classically trained at the Culinary Institute of America. The school prides itself on providing all its students the tools they need to succeed in the food industry. The most important tool I'll pass along is "mise en place." This is a French phrase used by chefs that translates to "everything in place." Baking 101 is, simply put, baking mise en place. Baking can seem daunting to...
Watch
What a fantastic video. I love this snapshot of Miami. #goheat2013
Squeezed in the Middle
Growing up as I did in a house filled with junk food, I had many options. Cookies lined the shelves, each vying for my attention, screaming "Pick me!" Passing over crunchy chocolate chip, I would quickly make my way to the sandwich cookies. Nutter Butters were my all-time favorites. So much so that my homemade variety appears on the cover of my upcoming cookbook. I waited all year for Girl...
Fruit Forward: Hedy Goldsmith Reveals the Secret...
Posted on The genuine Kitchen June 29, 2012 by Emily Codik  Thanks Emily for this sweet blog post! (Ooh, yeah! All right!  We're jammin':  I wanna jam it wid you.  We're jammin', jammin',  And I hope you like jammin', too).  "Oh, hi!" Executive Pastry Chef Hedy Goldsmith exclaimed, swiftly turning away from the ice cream machine at MGFD. I had just...
The Afterlife of a Vanilla Bean
Every year in the restaurant and out in the field, I use a truckload of vanilla beans. To me, they are as important as flour, sugar, butter and eggs. I consider the vanilla bean the fifth essential ingredient. So imagine gallons of ice cream flecked with pounds of vanilla beans. Yummers! And how about custards by the kilo with an equal amount of this decadent vanilla sprinkled through every...
That's the Spirit: Using Liquor in Sweets The folks at FN Dish presented me with an opportunity to blog about all things sweet…yep, a very sweet offer! This is one of my favorites: I'm a bourbon girl, straight up. Neat or on the rocks, it doesn't matter just as long as the vanilla, oak, caramel and spice notes work their magic. It's pure craftsmanship at its best and only gets...
Last week, the folks at Breville came back to Miami and graciously offered to shoot a trailer for my cookbook. Look for it the end of July. Thank you Jim, Rebecca and crew and the infamous Adele, who always adds a tad bit of Aussie humor. You guys rock. 
So many amazing things happening in my sweet world. Here's an amuse-bouche. Check back for 'smore! OK, yep, this year I didn't win, but I'll always be a James Beard Award Nominee. I'll take it! A sweet congratulations and a big XO to my very good friend Mindy Segal, who took home the medal. Phew, maybe my chances will increase with her out of the way. :-D  Check out...
And the dreams that you dare to dream really do...
I never, ever thought I'd have a week like this…. that's totally the truth! I'm a James Beard Award finalist for Outstanding Pastry Chef? Are you kidding me? Yes, I've dreamt about it, I've even made it to the semi-finals a couple of times before, but a finalist? Really? I'm a bit numb. Fingers crossed for May 7, but I've already won. xo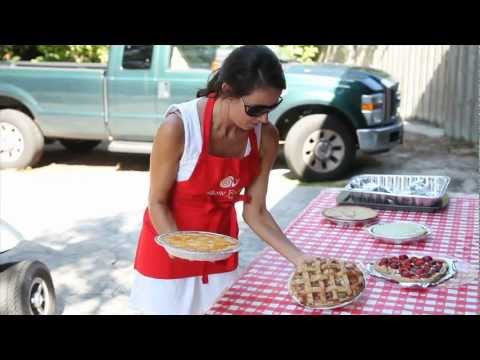 Diet Pepsi Choc Chunk Cookies!
Makes 16 cookies Ingredients: 1 3/4 cups all-purpose flour 3/4 teaspoon baking soda 1 stick unsalted butter, at room temperature 6 tablespoons packed dark brown sugar 6 tablespoons granulated sugar 1 extra-large egg, at room temperature 2 tablespoons Diet Pepsi, at room temperature 1 teaspoon vanilla bean paste or pure vanilla extract 6 ounces bittersweet chocolate, cut into ½ inch chunks ...